We want to partner with you and help you improve your business. We provide a 360 degree solution based on one platform hosted on-premise or on-cloud for the customer. We are the ONLY product manufacturer who offer the option to invest and build your own infrastructure as an option instead of renting it out.
Don't have the patience to read and want to speak to someone? Call us at +91-9789-9789-81
Let's have a look at how the business model for MSO's are changing. As times change, technology changes and as technology changes, we need to adapt our business according to the latest requirements from consumers.
Currently, the MSO business model is fully dependent on traditional subscribers Pay TV model for only TV & Advertisments on channels. We're going to change that and upgrade you to the next level.
Let's look at what's been happening so far :
The Whole world is changing with technology with new products.
Year by year the no. of subscribers are coming down and advertisment rates are also comming down.
To compensate and increase the business Most MSO are also now switching to provide internet to their subscribers.
The consumers expectation has gone double in few years with the internet and other devices that has come to the market.
In a few years to come Pay TV model to watch only on TV is going to be the past.
Today by going on world records Streaming TV is becoming more popular – Netflix, youtube TV , HBO and other installable TV apps and set top boxes.
The advantage of Streaming TV for the consumer is they can watch it on multiple platforms rather only on TV with a single payment.
The consumer can watch all the channels on TV, with internet set top box , and directly on android, I-phone mobile, Tabs, Website, PC , Laptops and on any device that have the facility to browse the internet.
A recent TV analysis by UBS shows the following: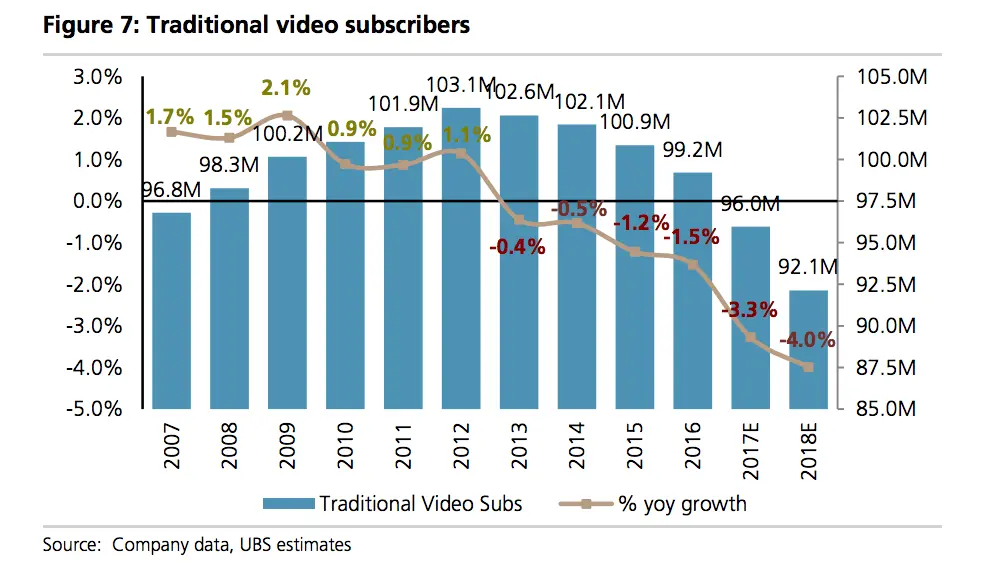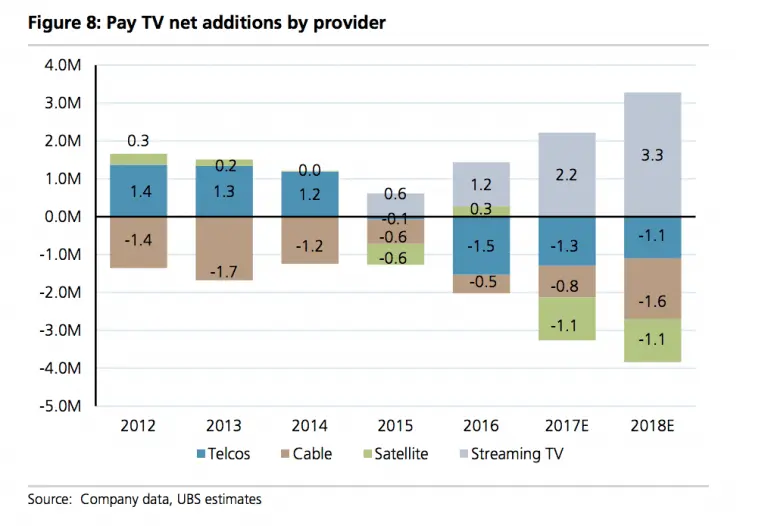 The Data shows the Streaming TV is increasing and traditional TV viewership is coming down
In a short time there are going to be plenty of streaming TVs like Netflix that are going to come in to the market.
They will all deliver digital multiple channels to everyone in world.
If you would like to come up in the market – then you should start multiple channels on web, mobile and TV over the internet.
Now you have the advantage over others. that may not last
What will you do when others take over your market?
In india, Sun next, youtube TV , airtel TV, tatasky TV etc. all are going to have the major market share that includes direct subscriber clients unless MSO's act fast and upgrade their technology.
Before that could happen, MSO's should start TV over the internet and provide all channels in all digital media to all every subscriber.
What should you do now?
Start by building your own infrastructure for your viewers to watch all TV Channels not just on TV but also in web, android mobile, i-phone mobile, laptop, PC and all devices including on car – so that your clients will not go from you and you can also increase your base of your clients to all over the world as pay tv channel to watch all your channels all over the world and locally.
You should promote it in your own name. It is possible to provide thousands of channels digitally to your clients and also provide them as pay TV. you can setup your own plans for your clients.
If you provide your channels to other companies then you will end up in promoting their Over the Internet channels & you will not be able to collect money from your subscribers and your subscribers will turn to them. That's where we come in,partner with you, assist you and help you.
How much it would cost me to setup the infrastructure?
The Complete infrastructure setup with all the necessary hardware, multi-channel streaming software, its back-end control  of all the channels, Its administrative software, payment gateway software, subscriber  management software, and all the required streaming server will cost the lowest with the most number of features when you build your infrastructure using IVB7 technologies
We want to help all MSO to digitize all their channels for streaming. To bring about a change for the MSO – We are now bringing at a very affordable cost for the MSO with more than 50% discount on the cost.
We also provide it on a EMI to facilitate everyone to get into it.
Hence an intial payment will suffice for you start & run the live of all the channels on the digital medium .
Since it has to be in multi-platform – you will get android apps, iphone apps, android internet TV box, & also software for the web, PC & Laptop, software for the linux box TV. so it will be single management for all your channels on TV, android phone, I-phone, Web and for all devices.
How will i have all the channels in the TV box and all the software for channels?
All free Channels that is already in the web can be added into it through the channel adding software provided – It can also be categorized as per your requirement.
All paid channels that is available in the web streaming can also be added with the permission of respective channels.
If the channel is not digitized in the web. all software is provided again to digitize the channel to the web & then add it to the TV channel software.
For more information view on the following links:
Business Insider – India -Get ready for traditional TV to have historically brutal subscriber losses this quarterNATHAN MCALONEJUN 7, 2017, 12.36 AM
http://www.businessinsider.in/The-dreaded-future-is-here-for-cable-TV-and-well-soon-see-which-business-models-will-rule/articleshow/58596308.cmsThe dreaded future is here for cable TV, and we'll soon see which business models will rule. — NATHAN MCALONEMAY 9, 2017, 07.01 PM